What's Cooking with Jennifer? : Pasta Primavera
In the pasta mood? Trying to stay healthy? This recipe has no meat in it, just noodles, sauce and veggies!
Ingredients:
8 oz. uncooked fettuccine or linguine
1 tablespoon live or vegetable oil
1-cup fresh broccoli florets
1-cup fresh cauliflower florets
2 medium carrots, thinly sliced (1 cup)
1 cup frozen sweet peas, thawed
1 small onion, chopped (1/3 cup)
1 cup Alfredo sauce
1 tablespoon grated Parmesan cheese
Directions:
*Cook and drain fettuccine as directed on package.
*Meanwhile, in 12-inch skillet, heat oil over medium-high heat. Cook broccoli, cauliflower, carrots, peas and onion in oil 6 to 8 minutes, stirring frequently, until vegetables are crisp tender. Remove from heat; keep warm.
*Stir Alfredo sauce into vegetable mixture. Stir in fettuccine; heat through. Sprinkle with cheese.
*note: I make this recipe quite a bit and change it up almost every time I make it. Using different veggies when you  make it will mix it up a little bit for you. Add extra parmesan cheese for some more flavor!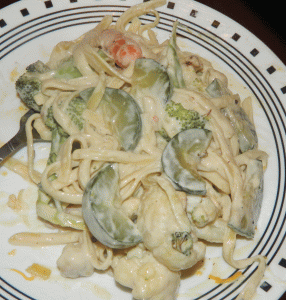 About the Contributors
Jennifer Tosh, Graphic Editor
Hometown: Norfolk, NE

Class: Sophmore

Major/Program of Study: Graphic Design

Viewpoint Staff Position: Graphic Editor

Fun Fact: My favorite...