International Students Meet With Northeast President
Hang on for a minute...we're trying to find some more stories you might like.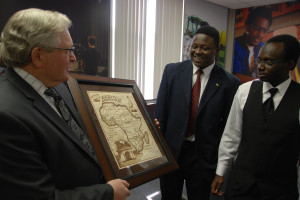 Nathan Zopoula, Ouagadougou, Burkina Faso, (center) presents a gift to Dr. Michael Chipps, president of Northeast Community College following a meeting this week between members of Northeast's international student community, Chipps and Dr. Karen Severson, vice president of student services.  Also pictured is Aka Fiacre Aka, Abidjan, Cote d'Ivoire (Ivory Coast).  50 students from 19 countries are attending Northeast Community College this academic year. The countries include: Ethiopia, Cote d'Ivoire (Ivory Coast), Ghana, France, Burkina Faso, Bahamas, The Gambia, Colombia, South Korea, Vietnam, Australia, Nigeria, Malawi, Cameroon, Kenya, Zambia, Mongolia, Denmark, and Japan. (Courtesy Photo).