One Man's Opinion: Michael Sam-What's the Big Deal?
If you haven't heard yet, the football world was rocked with some big news on Sunday.  University of Missouri defensive end, Michael Sam openly came out and said he is gay.  "What's the big deal?" you ask?  A lot.  But not for the reasons some might think.
Michael Sam was the 2013 SEC defensive player of the year.  If you didn't already know, that's a big deal.  Being named the top SEC anything generally means you are the best in the nation.  Sam lead the SEC in sacks and tackles for loss.  To make things simple, the guy can play football.  That's what is most important here.  Michael Sam is an incredible talent.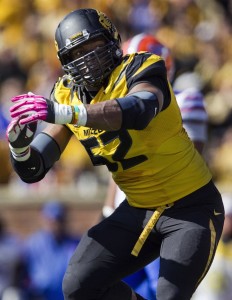 It's more than just that, though.  We're seeing something historical.  Gay men have played in the NFL before, but none of them have ever been openly gay while they were playing.  Sam has taken it a step further and let it be known he's gay before he has even been drafted into the league.  This is big.  Whether or not you agree with or accept homosexuality, you have to admire Sam's courage.  He's done something that no one else before him has ever done before.
"How will this affect his teammates and the locker room?" some ask.  Here's how.  Sam's Mizzou teammates and coaches all knew he was gay.  He told them all.  How did the Tigers react?  By lining up next to him, just like every teammate they've ever had, roared to a 12-2 record, an SEC East championship, and Cotton Bowl championship.  This is a Tiger team that missed a chance to play for the national championship by one game.  Their leader on defense?  Michael Sam.
It's easy to preach and say how people should react, though.  So I'll take this time to freely admit that I'd absolutely feel a little awkward if I knew there was a gay man in the locker room with me.  It'd be a new experience for me and we're all a little uncomfortable with new experiences.  It's how you react to these experiences that makes you a good person.  The Missouri Tigers accepted Sam as one of their own and his new NFL team should do the same.  Will it happen immediately?  Maybe not.  But as you get to know someone and realize you're both working for the same goal, it makes it easier to accept them as a friend, teammate, or fellow man.