Walking Through Paradise – Honoring a Legend
Hang on for a minute...we're trying to find some more stories you might like.
"This courtyard is a wonderful way to honor Dr. Paradise … this is going to be a major walkway for thousands and thousands of students," said Dr. Michael Chipps, President of Northeast Community College at the Thursday morning naming ceremony for Paradise Courtyard.  Several hundred people gathered under the new covered area behind the Welcome Center to honor Dr. Michael Paradise.  Dr. Paradise served as president of Northeast Nebraska College (NNC) in Norfolk from 1968-72.  NNC merged with Northeast Nebraska Technical College (NNTC) in 1973 to form Northeast Technical Community College (NTCC). In 1991 it became Northeast Community College.  "I think it's wonderful," said a humble Dr. Paradise. "It made me happy to come back here and see how the college has evolved and how well they are serving the students of this area." Dr. Paradise was surrounded by family for today's event, including his wife, Ann, from Aberdeen, SD.
"If we hadn't had the strong leadership of Dr. Paradise and others we wouldn't be standing here today, " Dr. Chipps said. He said Paradise Courtyard is an integral part of a comprehensive facilities plan on campus.  The purpose of the project is multi-faceted. "Below ground, it addresses the College's aging utility and technology infrastructure while above ground; sidewalk improvements have made navigating this part of campus much easier for our students – especially for the College's disabled students, as well as employees and guests." The project also includes significant upgrades in lighting along the sidewalks, which makes for a much safer environment, and provides seating and shade for students, guests and employees.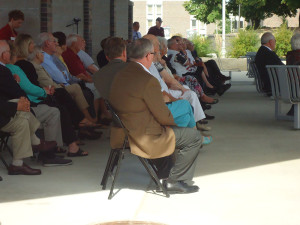 A number of dignitaries and honored guests attended today's ceremony, including Dr. Robert Cox, NTCC's first president.  His recommendation led to the Northeast Board of Governors formally recognizing the contributions Dr. Paradise made to the community college system.   In its recommendation, members of the task force said "Dr. Paradise fully supported the community college movement that merged Nebraska's junior and technical colleges.  His work as a liaison with the Nebraska Legislature led to a smooth transition of the merger of NNC and NNTC." It went on to say that "Dr. Paradise was instrumental in the formation of the community college system that is now in place in Nebraska."  Dr. Cox said, " It has been a privilege to know this remarkable man who we honor today….we are in deep gratitude for the work that he did. His unselfish leadership helped in securing passage of the Nebraska Technical Community College legislation. "
Dr. John Harms, now a state senator from Scottsbluff, and Larry Godel, former vice president of educational services at Northeast, both worked with Dr. Paradise and spoke of his caring attitude towards students and his hard work in helping to establish the community college system in Nebraska over 40 years ago.  Dr. Harms said Dr. Paradise was "the most student oriented man I have ever worked with."  Dr. Paradise downplayed his part in the establishment of the state's community college system. He fondly remembers the people he worked with in higher education. "I consider them as my family. The people cared for me and I cared for them," he said. "I'm glad that at least some of them are still working for this institution."
Dr. Chipps asked for a round of applause for all who worked so hard on the project, for the Northeast Board of Governors and foundation members.  He said, "Paradise Courtyard really sits at the heart of this campus – adjacent to the building we call the 'College Welcome Center.' This is a lovely and welcoming place indeed – not just for our students, faculty and staff, but for all of you as well."
Dr. Paradise, a native of the Greek island of Crete, came to the United States in 1951. In addition to his time at Northeastern Nebraska College, he also served as president of the former Central Technical Community College in Hastings. He has held other positions at the University of Alaska- Juneau, the University of Minnesota, Chadron State College and Northern State University in Aberdeen, SD. Paradise also served as executive director of the International/Intercultural Consortium, an association of over 120 colleges and universities, and director of the International Services Division of the Accrediting Commission for Community and Junior Colleges (ACCJC).