Movie Review: Identity Thief
Identity Thief is an action packed comedy, filled with heartwarming moments. It is the perfect blend of family, friendship, fun, excitement and adventure.
Sandy Patterson, played by Jason Bateman, is a hardworking husband and father, who discovers that his identity has been stolen, and he is about to lose his job.
Diana, played by Melissa McCarthy, is an outlandish, crazy character who spends her days going on shopping sprees and hitting up the bar, using an id that reads "Sandy Bigelow Patterson."
Sandy flies to Florida to bring Diana to Denver, to clear his name, and quickly runs into many problems.
The two of them end up driving across the country, being chased by an angry bounty hunter, and two drug dealers looking for revenge.
McCarthy does an outstanding job in this film. Her character is hilarious and witty as she drinks, fights, sings, and dances her way to the top. But McCarthy also brings a more sentimental side to her character, as she and the real Sandy seemingly become friends.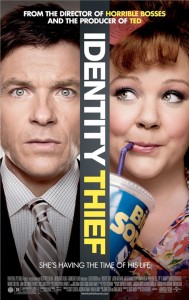 Other cast members include: Jon Favreau as Harold Cornish, Amanda Peet as Trish Patterson, Tip 'T.I.' Harris as Julian, Genesis Rodriguez as Marisol, John Cho as Daniel Casey and Morris Chestnut as Detective Riley.
According to Box Office Mojo.com, Identity Thief held the number one spot in the U.S., after making $36.6 million during opening weekend.
This is an excellent movie, and I highly suggest it to anyone looking to have a good laugh.
Do note that it is Rated R for sexual content and language, and anyone under the age of 17 will need to be accompanied by a parent or guardian.