"I of the Sun" Book Review
Have you ever wanted to just pack up your bags and take off to a far away country and strike out on your own? Richard Arthur did and he tells his tales of Southeast Asia in "I of the Sun". Shortly after his 22 birthday, Arthur left his home in the United Kingdom and took a plane to Selangor, Malaysia where he embarked on a yearlong adventure. "Land approaching. Bright green trees and fields. That swooping descent, ground rising, the angel of dreams coming into land. Then that thud of undoubtable certainty. The plane swung round, Kuala Lumpur International Airport looming like a vision of the future – all stainless steel and glass domes." He spent a few weeks in Malaysia to get his bearings and in the process met other travelers like himself. After getting tired of staying in one place, Arthur left for Thailand where he spent most of his time. He also traveled around Laos and Vietnam during his time in Southeast Asia but he would always go back to Thailand, especially to the small tourist towns of Ao Nang and Ko Phi Phi.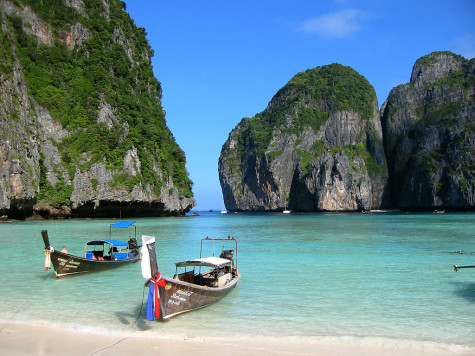 Southeast Asia has a tropical climate and through Arthur's words, you can visualize the beauty. Arthur got a job handing out flyers at a bar in Ko Phi Phi because he loved how beautiful the place was and how friendly the people were. Jungle Bar paid him well, gave him free lodgings, and let him drink on the job so it's no wonder he always gravitated back to the tourist town.
Being in Southeast Asia wasn't always fun and games, though, there were plenty of trials and tribulations. Arthur would meet new people and hang out with them, but then grow tired of the sameness. So he would take off again. After being by himself for a few days he would get lonely,  meet new people and the cycle would repeat. Part of that problem might have been the paranoia resulting from his experimentation with drugs and alcohol. That's one of the first problems he discovered while being in a new country. Another problem was disease. He got the dengue hemorrhagic fever, a tropical disease spread by mosquitoes, and a rash that spread over his face from the river water in Laos.
Girls were also a big problem for Arthur while he was in Southeast Asia. There were two women in particular that stressed him out. Nok was a girl he met in Ko Phi Phi who he fell in love with but he couldn't trust her because she was a butterfly, a girl who goes from guy to guy in a blink of an eye. When he left Ko Phi Phi, he told her he would be back and proceeded to travel to other areas of the country meeting new girls he would then sleep with. He did go back to Ko Phi Phi, but his jealousy of the suspicion of Nok sleeping with other guys made him break it off with her in the end. Arthur dated another girl, Jeab, in Ao Nang but he had wanted to be with her friend when they first met. After a night of drinking, he woke up in bed with Jeab and that had been that. He never ended up liking her, though, which makes you wonder why he stayed with her.
At the end of his year in Southeast Asia, Arthur e-mailed different schools for a job teaching English. He was accepted at a school in China and he had to decide if he wanted to leave the tropics. In the end Arthur did leave for the four month teaching job, proving that you can travel around foreign countries and end up being okay. Just be careful, though, because you could end up being like Arthur's friend Joe Conway who went home with two broken legs.
"I of the Sun" is a book full of fun times and troubled times and keeps you captivated until the end because you want to know if Arthur can actually travel around Southeast Asia and not end up in peril. "I could only be grateful that upon self-destruction it was I, the I of old, who crawled out the other side. I'd emerged deflated, emotionally exhausted, exhumed of all juices of the heart, operating in auto-pilot, just the occasional pulse of feeling to remind me I was still alive. But alive I was. Yep, still here, thank God. A little bruised and battered perhaps, but still me."
This book contains adult situations and language, so not recommended for young readers.