February Employment Numbers Surprise With 175,000 Jobs Added
Hang on for a minute...we're trying to find some more stories you might like.
By Kevin G. Hall
WASHINGTON — A better-than-expected February jobs report Friday from the Labor Department renewed expectations of economic acceleration in the months ahead and snapped a two-month lull in hiring.
Employers appeared to shrug off bitter mid-February storms, adding 175,000 jobs last month. With more workers coming into the labor force, the jobless rate inched up a tenth of a percentage point to 6.7 percent.
"The job numbers were encouraging, and suggest the economy is weathering the bad weather well," said Mark Zandi, the chief economist for Moody's Analytics. "Job growth will improve with warmer temperatures. Underlying job growth is closer to 200,000 per month, and we should see a couple of months of well over that this spring."
Mainstream economists worried that the cold snap and heavy snows would hurt hiring. Most had estimated job creation in the range of 150,000 or lower for last month.
Leading the pack in February hiring was the white-collar professional and business services sector, which added 79,000 jobs. Temporary employment, usually a harbinger of future full-time hiring, added almost 25,000 jobs last month.
"All around, a solid employment report for the month of February that bodes well for better job and income growth in the months ahead," said Scott Anderson, the chief economist for San Francisco-based Bank of the West.
Most economists still expect weather to slow the growth rate for the first three months of this year. That's after a sluggish 2.4 percent annual growth rate from October through December, a number that few economists think will be matched over the first quarter of this year.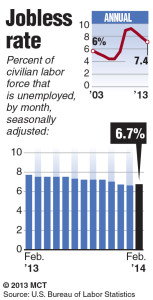 Deeper in the report, there was an outsized increase in average hourly earnings of almost half a percentage point. That's a year-over-year gain of 2.2 percent, suggesting that workers might begin commanding greater wages.
Wages have been unusually flat since the end of the Great Recession in 2009 as the supply of workers far exceeded the demand for them. That gap seems to be narrowing, and Anderson called it "a positive signal that a lower unemployment rate could begin to boost wages and incomes for American households."
February's bounce-back in hiring suggests an underlying strength in the economy, one that withstood an unusually harsh winter.
"Weather did have an impact, as it crimped the job gains and, more significantly, reduced hours worked," noted Zandi. "The number of workers employed part time due to weather but usually work full time jumped to … more than five times February's historical average."
The White House suggested bad weather had restrained an accelerating recovery.
Jason Furman, the head of the White House Council of Economic Advisers, said nearly 7 million nonagricultural workers who usually work full time had been knocked down to part time, the second highest in 20 years.
"Another 600,000 nonagricultural workers reported missing work for the entire week due to bad weather, more than twice as many as last February."
That's in line with the view of Chad Moutray, the chief economist of the National Association of Manufacturers.
"This data has been consistent with other economic releases of late that have shown more sluggish demand, production and shipments due mainly to winter weather-related slowdown," he said, adding that the "silver lining with weather-related influences, of course, is that warmer temperatures should bring improved job growth, and these data appear to support that view."
The manufacturing sector added just 6,000 jobs in February, slow for the labor-intensive sector. The construction sector shrugged off the cold snap and added 15,000 jobs last month, and the leisure and hospitality sector posted 25,000 jobs, suggesting expectations for more Americans traveling this spring.
Retailers shed more than 4,000 jobs last month, and the transportation and warehousing sector, too, was a job loser for February, down about 3,600 jobs. Health care added almost 10,000 jobs, a flat number for a dynamic sector.
The Labor Department also revised upward by a combined 25,000 jobs its estimates for December and January hiring, pushing them up to 129,000 and 84,000, respectively. Those are sub-par numbers, and they're one reason that February's bounce-back despite seasonal challenges was important.
The White House was quick to note the February number is close to last year's average of 182,000 new jobs a month. House Speaker John Boehner, R-Ohio, looked past the February number, however.
"While it's good news that more Americans found work last month, there are still far too many asking the question, 'Where are the jobs?' " he said in a statement.
The better-than-expected Friday report means the Federal Reserve is likely to continue tapering back its controversial purchases of government and mortgage bonds in support of the economy.
While the Fed continues bond buys of $65 billion a month, it ratcheted back those purchases by $10 billion in each of the first two months of this year. The Fed might knock that back to $55 billion a month after the rate-setting Federal Open Market Committee meets March 18-19.
Nonetheless, the number of long-term unemployed remains at staggeringly high levels, and the rate of participation in a growing labor force continues to hover at all-time lows.
"A particularly big concern is that participation remains at a low level for the prime working-age population between 25 and 54 years old," Keith Hall, a former head of the Bureau of Labor Statistics, said in a research note.
———
©2014 McClatchy Washington Bureau
Visit the McClatchy Washington Bureau at www.mcclatchydc.com
Distributed by MCT Information Services