Students Reflect During Northeast Nebraska History Day
Hang on for a minute...we're trying to find some more stories you might like.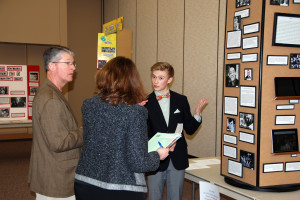 Caleb Lohrberg, a senior at Pierce High School, speaks with judges Rev. Chip Winter and Pam Saalfeld during a Northeast Nebraska History Day event at Northeast Community College in Norfolk. His display "Out of the Closet and Into the Streets: The Rights and Responsibilities of a Sexual Minority" won first place in the Senior Exhibit Design category. It was among several projects that were displayed and presented at this week's event. Hillary Saalfeld, coordinator of the Northeast Nebraska History Day, said more than half-a-million students across the nation take part in the National History Day contest each year. "Students choose historical topics related to a theme and conduct extensive primary and secondary research through libraries, archives, museums, oral history interviews and historic sites. These projects are entered into competitions at local, state and national levels where they are evaluated by professional historians and educators," she said. The state History Day competition will be held at Nebraska Wesleyan University in Lincoln on April 12th. The national competition will be held in Washington D.C. in June. 36 students from Madison Public Schools, St. Rose of Lima in Crofton, Spalding, Columbus Lakeview and Pierce took part in Northeast Nebraska History Day contest.  (Courtesy Photo).