DJs give new gear a spin amid boom in electronic dance music
Hang on for a minute...we're trying to find some more stories you might like.
By Ryan Faughnder
It was DJ Miguel Garcia's first time at last month's National Association of Music Merchants' big trade show in Anaheim, Calif., but he was in his element, hunched over an expensive DJ rig while spinning his own dance music.
"These are probably the best you can get," said the 18-year-old house music performer, who goes by the stage name MikeeyKrook, admiring the Pioneer DJ digital decks and mixers while pumping out his song "Pyramid."
Although the annual NAMM Show is widely known as the place to check out new guitars and amps, manufacturers, retailers and musicians can hear the crescendo of business in a different venue: DJs making electronic dance music, or EDM.
Once relegated to raves in warehouses, the electronic music culture has produced international superstars such as Skrillex and Tiesto and has expanded to events such as Electric Daisy Carnival and Electric Zoo Festival, which have put DJs in front of the glow-stick masses.
Companies such as concert giant Live Nation Entertainment Inc. have invested heavily in the genre, and SFX Entertainment Inc., the EDM concert promoter headed by Robert F.X. Sillerman, went public last year.
U.S. sales of DJ gear are growing steadily, driven largely by the digital controllers that mimic the traditional turntable and mixer setup and are the tools of choice for young, aspiring DJs.
Controller sales increased 30 percent to $31 million in 2012, according to the latest figures from the Music Trades Magazine. Retail revenue from the whole DJ segment — which includes mixers and lighting equipment — grew to $120 million in 2012, up more than 5 percent from the previous year. In 2011, revenue increased 11 percent.
That's above the industry average. Overall U.S. sales of music and sound products increased just 1.7 percent to $6.7 billion in 2012.
Japanese electronics company Pioneer was not the only brand capitalizing on the interest. Companies such as Numark, Hercules and DJ Tech all had booths at the show to display their new wares. This convention even boasted its first performance stage just for EDM artists.
"Everyone's here," Garcia said admiringly.
Christopher Bennett, vice president of communications at Guitar Center, the world's largest music gear retailer, said the company's DJ sales grew 50 percent over the last three years. The company even offers DJ classes in some cities.
"I'd never have thought parents would be taking their kids to DJ lessons when they once might have taken them to piano lessons," Bennett said.
Los Angeles DJ Aero, a regular attendee at the NAMM Show, said he has noticed the change in the business as dance genres such as electro-house become more established in the mainstream, driven by the popularity of artists including Tiesto, Steve Aoki and David Guetta.
Aero (given name Chester Deitz), best known as Tommy Lee's DJing partner, said he's seen an increased presence of digital DJ decks and controllers at company booths at NAMM in recent years.
"It's exploding," he said. "It wasn't like this in the '90s. This is big business. Big companies are actually doing it."
Aero plays music that can be broadly termed electro-house, popularized by artists such as Skrillex, Wolfgang Gartner and Deadmau5.
Attending the NAMM Show helps him keep up with the competition, he said.
"Finding out what new gear is coming out before the public does is nice, because you know what direction manufacturers are going and once you know that you can see where the music is going to go," he said. "Having a leg up on that is important."
To be sure, DJ gear still occupies a relatively small portion of the NAMM Show. Much of the crowd treks to other levels of the convention center, huddling around new guitars from Fender, Gibson and Taylor.
But the turnover rate for DJ equipment is faster than the high-end guitars sought out and ogled by many NAMM attendees. Although a musician will purchase a Gibson Les Paul or Martin Dreadnought and keep it for years, a controller consumer may replace his DJ equipment as soon as upgrades are available.
That's good business for manufacturers and retailers, but can make things difficult for a hobbyist like Frank Zavala, 28, who lives in Temecula, Calif., and works as a sound engineer for Pechanga Resort & Casino.
"Everything happens so fast now that it's hard to keep up," he said.
(EDITORS: STORY CAN END HERE)
David Arevalo, director of marketing and artist relations for Pioneer, is a NAMM veteran and also a touring DJ who played Nocturnal Wonderland and Electric Daisy Carnival last year.
He's noticedyoung consumers getting interested in EDM and wanting to create, but for years the gear cost too much for the average newcomer.
"They go, 'Oh my gosh, I have to spend $6,000 to use whatever Tiesto's using?' " he said.
Now, he said, manufacturers are selling less-expensive tools and designing products that make it easier for people to work from their personal music collections. That has further boosted the industry's growth.
"You combine the growth in electronic dance music with the available technology for consumers and the music they already have, and that shoots the growth up even more," he said.
For Garcia, who has been making music for about a year, the equipment is important, but the biggest attraction is being onstage and getting the attendees to move.
"You can have that control of the crowd with people shouting your name and digging your music," he said. "That's the best, when you're playing your own music, no one's ever heard it, and people go crazy. You're like, 'I think I just made a hit.'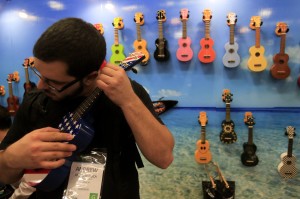 Andrew Duca listens to the sounds of a ukulele in the Mahalo Ukulele booth during the NAMM show at theAnaheim Convention Center, Jan. 24, 2014, in Anaheim, Calif.
©2014 Los Angeles Times
Visit the Los Angeles Times at www.latimes.com
Distributed by MCT Information Services