They may be cute, but they are also close to extinction.
Hang on for a minute...we're trying to find some more stories you might like.
By Sophia Solis
Cronkite News Service
They may be small, slow and cute for now, but within a few weeks the baby Nile crocodiles that fit in Russ Johnson's hands will be downright dangerous.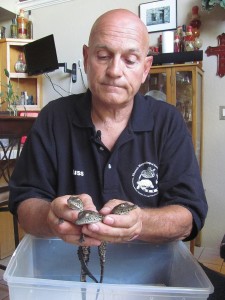 Johnson, president of the nonprofit Phoenix Herpetological Society, is celebrating the first breeding of Nile crocodiles in Arizona, calling the 11 newborns a boost for a species that's increasingly rare in the wild.
"This is a novelty; it just doesn't happen," Johnson said.
The parents are a male the society took in in 2003 and a female who arrived at the facility last year. Dubbed Mr. and Mrs. Engelbert, they were handed over by owners unable to care for them, Johnson said.
Adult Nile crocodiles can weigh up to 1,500 pounds. While they usually eat fish, they are known to attack most things that get in their way, including humans. In their native Africa, Nile crocodiles kill about 200 people a year.
The Nile Crocodile is the second largest crocodile in the world and inhabit rivers, large lakes and swamps. The Nile crocodile is characterized by its four short, splayed legs, a flat, powerful tail, a scaly hide and a strong jaw.
Nile crocodiles are different from other reptiles in that they protect nests until their eggs hatch.
After the female laid her eggs in June, eight months after meeting the male, Johnson and his team moved the eggs from the nest to a temperature-controlled environment. It was too hot for the eggs to survive in the crocodiles' outdoor enclosure.
For now, the baby crocodiles, which were born in late August, are kept in a small incubator meant to simulate their natural habitat.
Johnson said the births are remarkable because the success rate of first-time breeding is 30 and 40 percent for Nile crocodiles.
"This is the first time she has laid fertile eggs," he said. "And it is the first time he has bred."
Johnson said the baby crocodiles will likely wind up at zoos outside of Arizona after having a month or so to grow up at the Phoenix Herpetological Society. They'll grow on a diet that consists mostly of mice.
He expects one or two of the babies to remain at the facility so visitors can see Nile crocodiles of different sizes.
Distributed by MCT Information Services
PHOTOS (from MCT Photo Service, 202-383-6099): NILE-CROCODILES