Award winning poet, Marjorie Saiser speaking at Northeast on Wednesday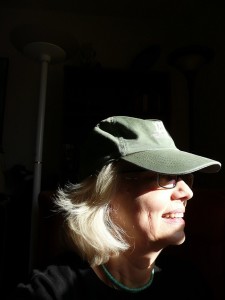 The NECC Visiting Writers Series kicks off this year with Lincoln poet Marjorie Saiser.  She will be reading her work and talking with students on Wednesday, September 11th at 7 p.m. in Hawks Landing.  Saiser was named Distinguished Artist in Poetry by the Nebraska Arts Council in 2009. Her work has been published in Prairie Schooner, Rattle, Field, Crab Orchard Review, burntdistrict, Dos Passos Review, Cimarron Review, Smartish Pace, Nimrod, Chattahoochee Review. These and other journals may be found at poetmarge.com and in the archives of Garrison Keillor's Writer's Almanac.
Saiser's most recent books are Losing the Ring in the River (University of New Mexico Press, 2013),Rooms (Pudding House Publications, 2010), and Beside You At The Stoplight (The Backwaters Press, 2010) winner of the Little Bluestem Award. She has received several Nebraska Book Awards as well as an Academy of American Poets award.
Saiser spoke to The Viewpoint's Angela Richart recently about what it takes to succeed as a poet and author.
Angela Richart: Thank Marjorie for taking the time to speak with us today. What made you want to become a writer?
Marjorie Saiser: Thank you Angela and the staff of The Viewpoint for having me.  Well, reading probably did. I really enjoyed being just deep into a story, into a book. I liked the way words sounded when you played with them. So it was books that my teachers read to me or poems that my teachers read.
Angela Richart: How did you actually become a writer?
Marjorie Saiser: I got a Bachelors in education. I really liked my English classes so after that I took mostly English and got a Masters in Creative Writing at UNL.
Angela Richart: Who influences you as a writer?
Marjorie Saiser: I really like the poems of Mark Doty and Steven Dunn. So they would be influences.  Dorianne Laux and Sharon Olds.  A big influence on me when I was in college and after college was Bill Kloefkorn. Another influence on me would have to be Ted Kooser for the clarity of his poems.
Angela Richart: He's really good, I've read Ted Kooser before.
Marjorie Saiser: I like his ability with words and the pictures that he can paint so that's a big influence.
Angela Richart: What was your first published work and how did you feel about being published.
Marjorie Saiser: I really was thrilled with my first poems that were published. They were in a magazine called Saltillo here in Nebraska. That was in the 70s. I had a couple of poems in there. I remember one of the poems was about the land and the buffalo being gone, the land changing so much. That was a big encouragement to me to keep writing.
Angela Richart: What is your favorite thing to write about, your favorite topic?
Marjorie Saiser: I seem to write about things that are lost, I seem to write a lot about the land, I seem to write a lot about birds, they just show up in my work. I may not intend to include that in a poem but birds show up a lot. So whether it's cranes or cardinals or sparrows, whatever, they do show up. For the last couple years that's been a lot of it. But I like to write love poems, I am very interested in relationships, relationships that go wrong, I'm very interested in that.  And family, a lot about family so I had to have my family's okay to publish. I asked my daughter, I asked my son, how is this going to be? I am publishing a book, it's got poems about family in it. You're in there, how do you feel about that and it had to be okay with them. And they were both alright with that, they said go for it mom. My husband is in a lot of my poems, and it had to be okay with him and he sort of likes that kind of attention so far. So that's okay. If I didn't have their go ahead I would probably still maybe write about them but I probably wouldn't publish unless they were in favor of it.
Angela Richart: Do you write non-fiction and fiction as well or just mostly stick to poetry?
Marjorie Saiser: Right now I just writing poetry but my most recent book actually took the form of a novel. It's in poems as if each poem were a chapter in a novel. That leaves a lot of space around the chapter, around the poem so to speak. But it tells a story if you go from beginning to end. Each poem can stand by itself too. If you follow the first section, it is a woman who lived in the 1900s. The second section is her daughter, and the third section is her granddaughter. We see how the family  gets along or doesn't get along, problems that the family has that show up in the next generation. So that kind of thing is a story. I am interested in narrative. I like poems that have strong pictures and that tell a story or part of a story.
Angela Richart: For student writers what advice would you give?
Marjorie Saiser: Well I think for student writers, I give the advice that was given to me which is read. Read a lot. Read especially what you like, follow what you like. Go to readings, hear it in the voice of the writer. Pay attention that was something that was given to me, pay attention.  Nancy McCleary told me that. She had just those two words, pay attention.  And she's right because when you are paying attention to whatever it is that interests you that gets into your writing. And another piece of advice that was really valuable Jonis Agee she's a fiction writer. She said you have to be fearless on the page. You don't have to publish everything you write but you have to be able on that blank page to be totally, totally honest.  Then after that you decide what you want to make public or not. That was really valuable. I guess, write every day. Like a truck driver you show up for work. You don't say well I've got a block and you know you might. Just write something every day. That was advice Bill Kloefkorn said, write something every day. Maybe it's a letter but it's putting words together.
Angela Richart:  Garrison Keillor has read your poems and you have a link to that on your website ( The Writer's Almanac)  . How do you feel about having him read your work?
Marjorie Saiser: Oh I just love that because you hear it differently when someone else reads it.  His timing is good, his voice is good, he gets humor into it.  One of my poems, probably the most well known of my poems is Beside you at the Stop Light. That's got some humor in it, it's just right when he reads it. Another poem of mine that he has read a couple of times is Night Flight which I like. I like the sound of it when he's reading it. So that was a big thrill. I am very pleased about it.
How do you feel about e-publishing and the changes in traditional publishing?
Marjorie Saiser: Well my most recent book came out as an e-book in February and then in print, they were a little slow, they got that out in March. My son-in-law said "I'm going to buy the first copy as an e-book."  I really like that because people who really like to read off a screen, it's available to them. I think it will maybe have an effect on some people writing poetry because you'll begin to write, maybe shorter lines?  I don't know, I am interested in seeing how it effects the look of the poems on the page. I think it is very portable then for people as they travel so I think all that is good. I was really pleased when this book, "Losing the ring in the river" came out and it could be read as an e-book. I think that in paper I like the feel of it as a paper book, so I think they both have advantages.
###
Saiser also offered The Viewpoint a summary of her latest work which is available at Barnes and Noble, Amazon and UNM Press.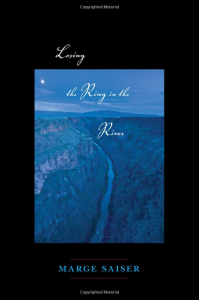 Losing the Ring in the River is a novel in poems. Marge Saiser, following the example of Willa Cather's Annie/Antonia, begins with a real person, her grandmother, and from there imagines the story of three generations of women on the Great Plains. Each woman narrates a section, speaking of what it is to be a woman in her era, and dealing in her own way with falling in love, giving birth, and finding or losing what matters. Rivers, cranes, the moon, and snakes appear and reappear throughout.
This book's title comes from an incident in the early 1900s in which Clara and her husband Luke take a dip in the river to cool off after a hot day in the field. Luke holds Clara's head underwater. He considers this good clean fun. Clara, terrified, claws his hands as if her life depends on it; her wedding ring comes off and is lost.
Luke blames Clara for the loss, and Clara begins to accept blame as a way of life. Over the decades, Clara does learn to hold her own with Luke and to survive the times he erupts into violence.
Clara can dance, she can garden, and she manages the difficult life of farming and living with Luke, but she doesn't manage so well with all her children.
Eddie is her favorite. She can talk to Eddie. Not so with Emma.
While Clara can hardly ever find the right thing to say to her daughter, Emma has plenty to say, at last reciting the list of Clara's faults as the two of them are canning tomatoes at 
midnight
. Because the days hold so much work, they must do the canning at night; besides, the night hours are a little cooler in the farmhouse in summer. Things boil between Emma and Clara, and Emma leaves for good.
She falls in love, hard, and never quite gets over it, despite divorce and distance. Time after time she thinks she has moved on, only to find she hasn't quite, and she can't seem to give a great deal of
attention to
her daughter, Liz. When Clara is ill and needs her, Emma's path lies between resentment and forgiveness.
Liz, narrator of the third section, tells what it's like to be Emma's daughter and Clara's granddaughter. Not bound by expectations, Liz refuses to keep the family secrets. She feels close to both her father and her grandmother, and she finds a way to embrace but not be swallowed by her mother. Wanting a new path with her lover and her own child, she hangs on to the idea that life overflows with choices.
Available from Barnes & Noble