Hawks Start Season Strong
Hang on for a minute...we're trying to find some more stories you might like.
The Northeast Community College basketball teams have started out on the right foot this season. Both teams have two wins and no losses after the first week of competition.
On Thursday, the Hawks women won their opener against North Dakota State College of Science 85-63. Andrea Johnson, Silver Spring, MD, led Northeast with17 points and 5 assists.
Emily Gamble, Omaha, and Ivana Vuletic, Norrkoping, Sweden, each had 15 points. Gamble was a perfect 5-5 at the free throw line.
The Hawks women also defeated North Iowa Area Community College last Saturday 69-56. Northeast held North Iowa CC to just 34 percent filed goal shooting.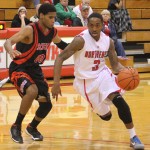 The Hawks men's team also won two games this past week. The men defeated North Dakota State College of Science in a thrilling game that resulted in a score of 88-84. Northeast was down by about 14 points with 8 minutes left in the game, but they made some key plays and shots and were victorious.
The Hawks were led by K J Bluford, Minneapolis, MN, with 23 points and 6 Assists and Cody Pender with 20 points, 9 rebounds.
The men also defeated Doane JV this past Sunday 87-73. Every player played at least 10 minutes or more in this game. This playing time should help build team depth for later in the season as some of our freshmen received their first minutes of play this year.
Northeast will host the Hawks Classic Friday, November 9 and Saturday November 10 at the Cox Activities Center. Teams participating in the Classic this year are: Des Moines Area Community College, Central Community College, North Platte Community College, Iowa Lakes Community College, Iowa Central Community College, and Northeast Community College.