I Got It From My Mama
It's layout night, the traditional evening spent with coworkers, a computer and multiple articles to be finalized for print. Early in the evening the room was full of the hustle and bustle of any normal newsroom: loud music blaring, people hurriedly eating dinner, discussions going on here and there, trying to get everything done in time.  But as the night went on, the room became very quiet; all you could hear was whispers and the occasional singing of a lullaby serenading the baby being rocked to sleep in her car seat on the floor.
To some this might seem absurd, but to this group it was simply an average night at the office. They had become accustomed to having a baby in the newsroom.
In one corner Tiffany and Lori worked together editing and retyping a story. On the counter JT molded yet another inappropriate wax sculpture. Sitting at the table Karl scribbled furiously as he drew his next cartoon. Across from him sat Becky, who was gluing down the last article on page 3 and rocking the baby to sleep, it was her turn.
Nineteen years later it is the same situation: the same newsroom, the same layout night, different technology, and a different staff, but the same family name. That baby is now the Editor in Chief, that baby is me!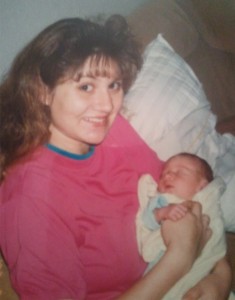 In 1993 my mom, Lori Rector, was 19 years old and Editor in Chief of the Viewpoint. It is now 2012, I am 19 years old, and have followed my mother's path.
I knew my mom's past, and I grew up learning proper grammar and how to edit papers. I always did well in my English classes, but I had never had any interest in journalism. Last year I was simply a business student, who had no idea what I truly wanted to do with my life, and that is when Jason Elznic stepped in.
Elznic came to me after having me in class, and asked me if I would be interested in joining the Viewpoint to do ad sales. At first I was a little surprised and nervous about the whole thing, but as I learned more about it I quickly agreed.
Within two short months of being on staff I had gone from Ad Sales representative to Reporter to Assistant Editor in Chief, to my current position as Editor in Chief.
I had no idea what I had gotten myself into, and felt panicked by the idea of it all. I didn't know what I was doing. I had barely even learned how to write a news story and I had no experience running a newsroom full of people! I quickly jumped in, and learned as I went. I took advice from those around me, and also learned a lot from my mom. She hadn't been in a newsroom in years, but she still remembered the basics and talked me through things when I felt like the world was coming to an end.
It has taken much time and hard work, but the newspaper has become something I love. It is stressful, and a bit crazy at times, but it is something I am good at, and something I enjoy.
At first it seemed ironic to me that I ended up here, but I'd like to think that destiny, and a little bit of fate came in to play and showed me where I belong. Who knew it was exactly where my mom had left off?